entrepreneur
I find myself buying more and more greeting cards. I guess it's one of those things you do when you become an adult.
I was super ecstatic to read that Andrea Pippins (fellow Temple University alumni) now has her very own! Yes – her own greeting card!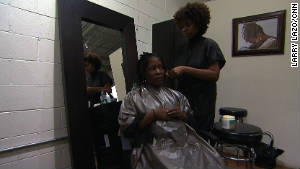 I do feel the R word is a nasty word.
Although I don't like to say it, the Recession has changed the way American live thier lives.
According to a recent CNN report, as you probably know, the hair business is bombin'! In the report one lady explains shes not buying new shoes…but getting her hair done instead! The report features the sucess of a Maryland Natural Hair Saslon!
People I meet…
The one any only Thierry Baptiste working his magic. What a nice down to earth guy…with serious talent!!

Owner of Ndadas Inc. Gift Gallery, they specialize in gift baskets! Phone: 410/542-2188 or 410/542-8550